Courchevel 1650 – The Forgotten Resort of the 3 Valleys
Courchevel is one of the world's best ski resorts and of course a place that's on the bucket list of every good skier.
It's one of the best known resorts on the planet, famed both for its chic and stylish resort village and for its incredible ski area, making up one of the 3 Valleys, the planet's biggest ski area with 600km of runs, and additionally famed for its great snow record, exciting terrain and fantastic high-speed lift network.
But not everyone knows that Courchevel – like many of the big French ski resorts – is not just one place, but made up of  four or five different resort villages (depending on where you draw the boundary), each with its own character and identity, as well as pros and cons for the visiting skier!
Actually, with Courchevel, the list of 'cons' is pretty short and the extra good news is that whichever base you choose, the different sectors are brilliantly inter-connected by gondola lifts and ski ruins, so getting between them is easy.
(Image credit David Andre)
Courchevel's different bases were recently known by their approximate altitude, although more recently the tourist office has 're-branded' them with names, but most people are still calling them by their heights.
The four (or five) are Courchevel 1300 (Le Praz), Courchevel 1550 (Courchevel Village), Courchevel 1650 (Moriond) and Courchevel 1850 – which is only known by its height still. The fifth Courchevel 1100 or St Bon was made part of a separate community in 2017 and isn't really officially part of the resort anymore.
Of course for you on your ski holiday you can enjoy a great stay whichever base you choose, and you can get access to the whole Courchevel Valley and the rest of the 3 Valleys beyond from any one of them but it is worthwhile knowing just a little about the difference between them before you book.
Courchevel 1850 is the biggest and highest of the bases, the original resort, today choc full of luxury hotels (the second most in France after Paris), luxury chalets (the most of any ski resort in the world) and high fashion boutiques.  It's a great resort but, as you may have gathered from the aforementioned description, not the cheapest.
Courchevel 1550 and 1650 are much more family-focussed and many believe more affordable.  The resort's incredible €70 million Aquamotion watersports complex (for which you get a free admission with a ski pass valid for two days or more) is shared by the two of them.  They're both growing fast with an ever bigger selection of accommodation, shops, restaurants and bars each winter.
Further down the mountain Le Praz and St Bon at 1300 and 1100 metres respectively are traditional French villages that existed before the ski lifts were installed.  They offer a good solution for those particularly seeking some traditional French ambience and mountain architecture, but facilities are a little limited and the altitude rather low.
This article is here to argue the case for Courchevel 1650! a.k.a Moriond
Courchevel 1650 has a more relaxed atmosphere than 1850, it's where you'll find a lot of the more 'normal' ski holiday accommodation compared to the 'uber-lux' options at 1850 and many of the people who actually work there choose to be based here instead. The result is a great, friendly, community atmosphere.
Standing a little apart from the other Courchevel bases, with it's central street part of the road up from 1550 to 1850, has allowed the village to develop its own character and personality, whilst still providing fast access to the Courchevel valley and the attractions of the resort's neighbouring villages.
But the resort is growing fairly rapidly and there's an ever-growing selection of comfortable chalets and apartments appearing, bringing with them an ever-expanding range of restaurants, cafes, bars and shops on top of the large number you can easily reach in 1850.
Skiing at 1650
Whilst connected to the full skiing of the Courchevel Valley (and the 3 Valleys beyond) by fast, comfortable lifts, Courchevel Moriond 1650 has a reputation for having a good selection of gentle green and blue grade runs close to the resort itself, making it an ideal choice for beginners and families. In fact there are several ski lifts that run free of charge for beginners and there's a special native American themed slope fun area for children.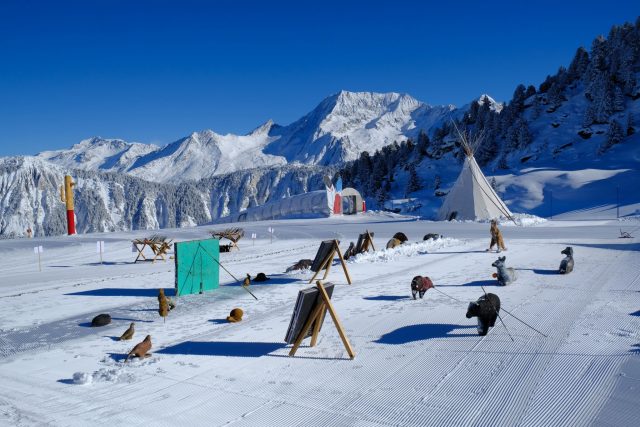 The area is also famed for getting some of the best sunshine in the whole 3 Valleys, whilst still being high enough for the snow to remain in good shape.
Intermediate and advanced level skiers and boarders have fast access to the hundreds of kilometres of blue, red and black slopes, as well as the freeride terrain for which this huge area is famous, and can ski over the Belleville Valley around St Martin and Les Menuires, or up to Val Thorens or down to the Meribel Valley and get back within the day.
There's even a 3 Valleys app which can not only show you the best routes according to your ability but also tell you what time you need to head back to 1650 by in order to make all the lift connections.
In Resort
Courchevel Moriond 1650 has a wide and ever growing range of bars and restaurants available offering everything from good value pizzerias to gourmet bistros.
There's also plenty to do in terms of activities with tobogganing, the Aquamotion indoor swimming complex and many other off slope attractions too.
If you're just after a beer or a cocktail before retiring for the evening though, some of the more popular venues include the Schuss Café, Funky Fox and La Cabanne. La Boulotte often has live music.
One of the newest and most popular arrivals is Copiña Courchevel 1650, a Spanish themed bar restaurant which is the second in the 3 Valleys, opening after the success of Copiña Meribel.
An instant hit with its trademark tiles, famous beer taps, white marble bar, washed wood and dark walls it has a luxurious, intimate and relaxed environment to indulge in after a long day out on the mountains.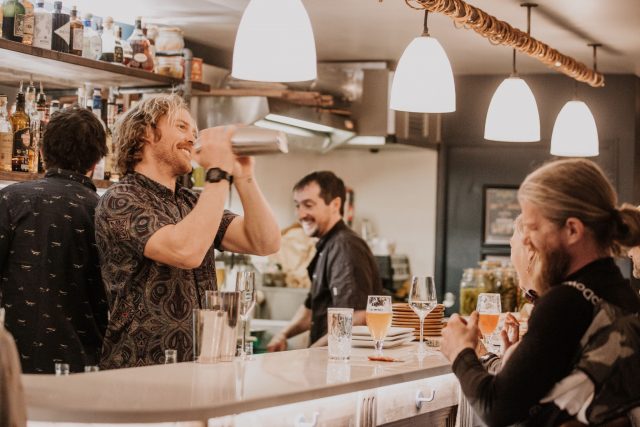 There's an open kitchen and a large, elegant bar showing off premium liquors, fantastic world wines and carefully selected craft beers on tap and offering exceptional cocktails created by some of the finest mixologists – which all add to Copiña's spectacle.
If you do venture to other Courchevel villages however, a free bus service runs right through to 1.30am daily linking the different Courchevel resort bases, so it should never be a problem getting home.