The Long Run: Resorts With at Least 2000 Metres of Vertical
If you love to ski (and who doesn't?!) the chances are your ideal ski day involves clocking up as much  vertical and as many piste kilometres as possible.  With a few pitstops for tasty mountain meals and drinks en-route of course.
Days with lots of vertical can be achieved by skiing laps using a nice fast chairlift of course, but some ski areas have a natural advantage that they offer massive differences between the height at the top of their highest lifts and the altitude of their lowest lifts.
In some cases that difference can exceed 2000 vertical metres and that means miles and miles (and miles) of non-stop downhill potential once you've reached the top. As an added bonus that top needs to be pretty high to get all the vertical in below it, so these resorts are also amongst the most snowsure in the Alps, usually with their top lift above 3,000 metres, often with a glacier up there too.  It's a win, win, win.
Here are some of the resorts with the biggest lift-served verts in the Alps, in Europe and in fact on the planet:

Alpe d'Huez
With ski lifts climbing from 1,250 to 3,330 metres above sea level Alpe d'Huez is one of less than a dozen ski areas worldwide in the elite 2,000m+ vert club.  It's made good use of this by promoting its Sarenne piste as the longest black run in the world at up to 18km (some reports put it at 14 or 16km).  It is a truly wonderful slope but there's some debate as to just how 'black' it is, with most who ski it rating it as a wonderfully long blue-red cruiser.  If you do the maths and divide up that 2080m of vertical by 18km you get an average drop of about 115 vertical metres for every kilometres skied, a little over 10% and not very black, but an awesome run none-the-less.

Engelberg
Engelberg is not only one of the easiest resorts to reach from an international airport – just a short hop from Zurich – it's also one of just a handful of resorts in Switzerland offering 2000 metres of vertical and a fantastic long piste down the Titlis mountain from the glacier up top at 3020m right down to the resort at 1020m. Famous also for its freeride and its revolving cancel car cabin on the ride up, it's a great choice for some lovely long runs.
Les Arcs
With ski lifts climbing between 1200m and 3226m Les Arcs also offers access to one of the world's biggest verticals.  The longest descent here runs from the glacier area of the Aiguille Rouge down for 7km towards the neighbouring village of Villaroger in the valley.  It's a superb descent through varying terrain that a good intermediate skier can tackle with ease. When you're done with it there's more than 400km more piste to enjoy in the surrounding Paradiski area, one of the world's biggest.
Chamonix
Not world famous for nothing, the Vallee Blanche is, kind of, the longest ski run in the world with the biggest lift served vertical.  You go up to the Aiguille Rouge (3812m) and then have an up to 20km long descent of up to 2,800 vertical metres down to Chamonix awaiting you. The main route down isn't terribly challenging in terms of gradient and can be tackled by a competent indermediate level skier, the main challenge maybe the ache in your legs as this is an off-piste, ungroomed run that's incredibly popular so fresh un-skied powder is rare. It is absolutely essential to ski with a local guide though as you are skiing a glacier with covered crevasses.  A good head for heights is required though as the infamous 'arête' ridge from the cable car station to the top of the ski run is a little alarming for those not used to such things. You walk down carrying your skis or board with the mountainside dropping away at steep 50 degree angles on either side.  On arrival at the end of your long ski most people take the cog railway back down to Chamonix from Montenvers but beware the final challenge awaits here with 440 steps up from the glacier to ascend with your weary legs.

Val Thorens
It may not be marked on the map but it is possible, snow conditions permitting, to ski one of the world's five biggest lift-served verticals down to Orelle in the '4th Valley of the 3 Valleys' from the area's highest point above Val Thorens.  The descent, below one of the world's longest gondola lifts, begins with a groomed trail but much of the 2300 vertical metres is off piste.

Davos Klosters
One of the world's original ski resorts, officially the difference between the highest and lowest lifts at Davos Klosters is less than 2000 vertical metres, but the area is famous for its wonderful long descents top neighbouring villages where you can jump on a train or bus back to the main resorts. Most famous is the Weissfluhgipfel run down to Küblis, categorised black/red and 12km (nearly 8 miles) long and a little over 2,000 metres in vertical descent as Küblis lies lower than Davos or  Klosters.
La Plagne
La Plagne just squeezes in to the 2000m club with its 1250 – 3250 metre height range.  The world's most visited ski resort has about 200km of runs (and as much again with the Paradiski Pass that also encompasses the slopes of neighbouring and lift-linked les Arcs) so there are plenty of ways to ski on and on down once you've reached the summit of the ski slopes.  These include some great piste routes but good skiers also have the option of hiring a guide and heading off piste down the other side from the Bellecote glacier.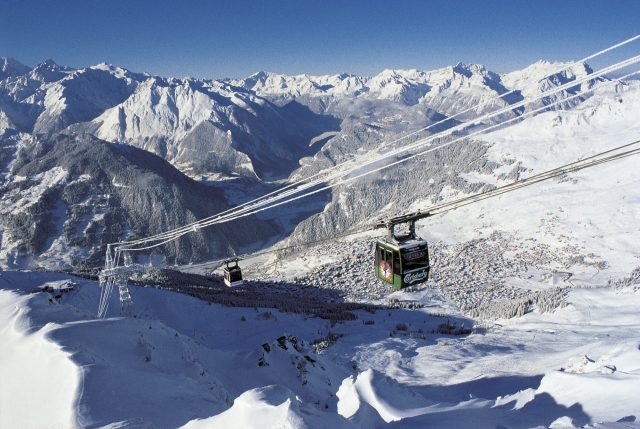 Verbier
Like Davos Klosters, the difference between the lowest and highest lifts at Verbier don't quite hit the 2000 vertical metres mark, but that hasn't stopped skiers heading down further.  In fact the biggest and longest descent possible is reputed to be a full 2509 vertical metres, one of the longest from the top of a lift there is.  When conditions are right (and that's not very often right down to the 800m altitude in the valley floor you're heading down to) the full descent possible is about 15km long.