How to Maximize Your Ski Time
Ski holidays are, of course, about the best way there is to spend your time and for most of us the time spent not skiing is spent reminiscing about past trips and planning new ones. What else is there?
But, perhaps partly because the anticipation is so high by the time we set off, the little things that so often go wrong can prove frustrating. 
The flight landing late morning and you know by the time you get to resort the lifts will just be closing, possibly the rental shop too; the wait for the other flight to arrive before you can board the transfer bus, the transfer bus making 10 stops before yours, the queue for rentals, the list goes on.
So perhaps when we plan our next ski holiday it shouldn't be so much where we go on holiday, as how.
Flight Times
The first thing to get right is flight times.  Too many flights leave so early you have to leave home the night before so arrive in resort feeling exhausted and not up for much, most of the rest land around lunchtime or early afternoon so you arrive in resort just as the lifts close and are left feeling frustrated at a lost ski day and twiddling your thumbs waiting for the next morning when you can get on the slopes, FINALLY.
The other problem with the early start flight is that even if you can grit your teeth and get through a sleepless night in order to arrive in resort early, many tour operators then book you on a stupidly early return flight too, so the final day you could have spent in resort is lost with travel and your actually back home by lunchtime.
So look for flights that get you to your destination country, and as close to your resort as possible, by early-mid morning.  This should not have to mean leaving ridiculously early.  On the return leg it's an evening flight home you want, then you should be able top spend your last day on the slopes, not in the airport.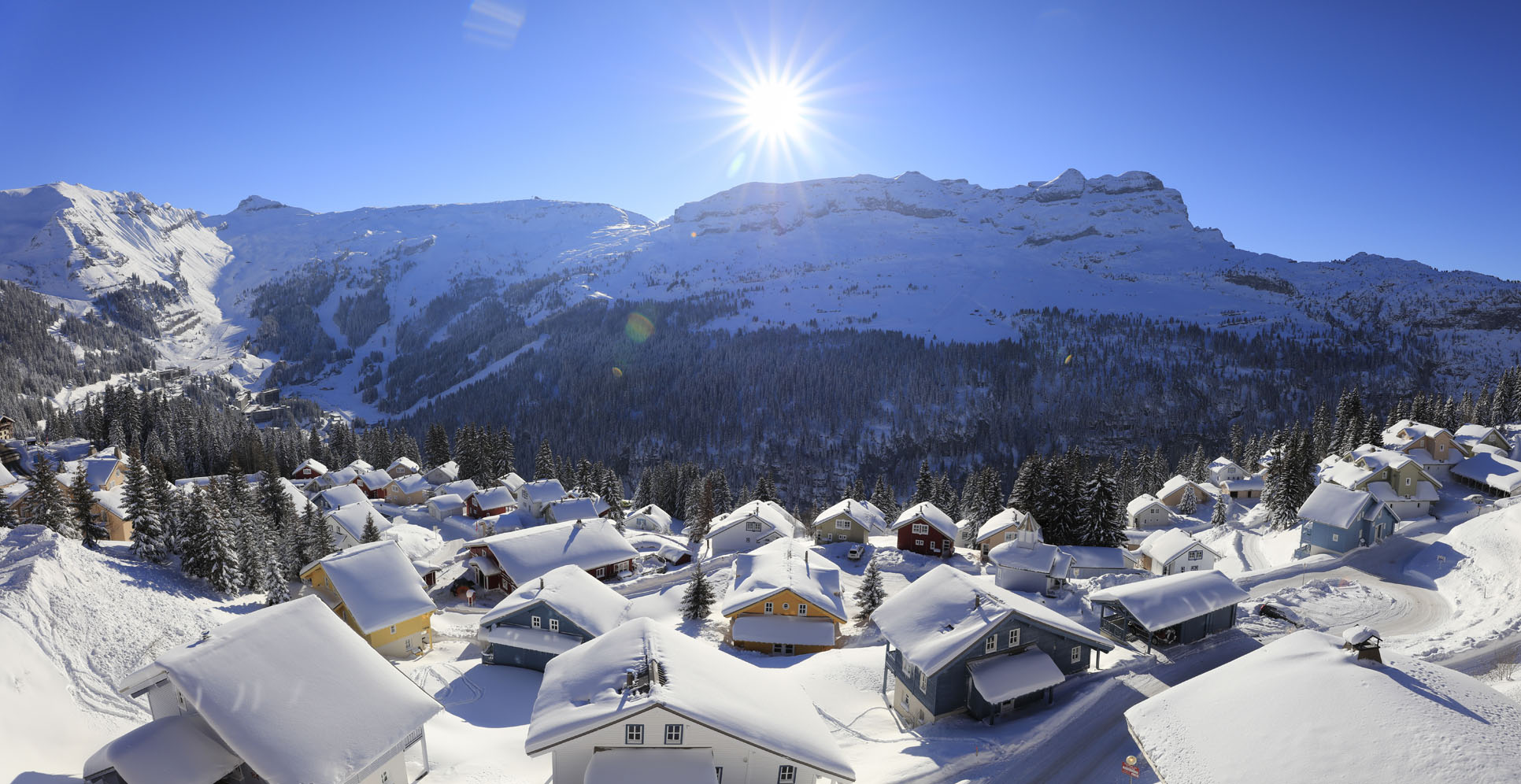 Transfer Times …and Days
It's equally important to look for ski resorts that are just a short distance from the airport  – ideally 90 minutes at most, an hour being ideal and less a bonus.
Examples in France include Flaine (pictured above), Les Gets, La Clusaz, Morzine or Megeve, each just an hour from Geneva.  In fact you can get to La Clusaz in 50 minutes if everything goes without any delay.
In Austria Innsbruck is only 15 minutes from its airport, Mayrhofen and Niederau an hour with Solden and St Anton 75 minutes.
For Switzerland Engelberg is the closest to an airport, Zurich, 90 minutes away; getting to Villars from Geneva talks about 10 minutes longer.
Outside the Alps Sierra Nevada in Spain and Oslo Winterpark in Norway are also each an hour from their closest airports.
If you can avoid travelling at the weekend, particularly during the daytime on Saturday.  The chances of congestion at the airport and on the road to and from your destination resort are greatly magnified with most other people trying to do the same as you.
Actually Saturday is a good day to spend on the slopes as with most people travelling on transfer day they're often very quiet, some resorts even offer cheaper Saturday tickets.
Up to this point you can kind of do it yourself, you can book your flights and your transfers and so long as you have a plan B if your flight is late and you miss your transfer or your transfer doesn't turn up for some reason, all should be fine (although using a tour operator should cover you against those potential pitfalls too).
The problem may be finding a tour operator flexible enough, but there are some that specialise in finding the right flights, and covering all the other details, like Ski Weekends.

The Transfer
It's vital to get your transfer right as this is where it can all go wrong!
Common problems include your booked transfer not hanging around if your flight is delayed, leaving you stuck at the airport and possibly having to face up to a huge taxi bill, or, as mentioned before, finding you're on a shared transfer which involves waiting for another flight and possibly being drive to other drop offs before reaching your own, losing crucial ski time whilst you waste time.
The important thing here is clearly to ensure you have a direct transfer just for you so if you are booking with a tour operator check that's the case before you book. Booking with a tour operator also means they should have your back if there are any delays with your flight.
Location, Location, Location
As well as finding a ski resort that's a short transfer from the airport, it's clearly important to ensure that your hotel, chalet or apartment in that resort is slopeside, or very nearly so.  You don't want to go to all that effort to get to the resort fast than fall at the last hurdle and find you have to wait for an hourly ski bus!
If you need rentals and these aren't provided for you in your accommodation (see below) then proximity to a rental shop is also something to check in advance.
Getting on to the Snow
The final details to check are in place before you confirm your booking include food, lift pass and ski gear.
The tour operators that have really thought out every minute of your trip to make sure you're on the slopes as quickly as possibly are likely to have your foods and drink needs covered if you're staying in a catered chalet, making sure there's something for you to grab on the go as you arrive (if you want it) so you can get out and on to the snow as quickly as possible.
They'll also have your lift pass waiting for you.
Finally in some cases, if you have sent your equipment requirements off in advanced, they may be able to arrange to have your rental gear waiting for you in your chalet on arrival.
Again, these details are the difference between booking a tour operator that knows every last detail of how to get you on the slopes as quickly as possible, like Ski Weekends, and a tour operator that doesn't know how, or simply doesn't care, or attempting to do it yourself.
Get all of the above right and you can be out on the slopes just a few short hours after taking off from the UK, whilst most other British skiers are still waiting in departures or sat on a transfer bus going round the back streets of the resort and not likely to get out on the slopes until tomorrow.
Isn't that a much better use of your time and money?