Menna Fitzpatrick
Menna Fitzpatrick, MBE and Jennifer "Jen" Kehoe, MBE are Britain's most decorated winter Paralympians winning four medals, including gold, at the Pyeongchang 2018 Paralympic Games in South Korea. Two years earlier in 2016 they became the first ever British athletes to win an overall World Cup crystal globe and be crowned World Cup champions. Earlier this year at the 2019 World Para Alpine Skiing Championships they took another five medals becoming the first British skiers to win both Paralympic and World Para titles.
How did you get in to skiing?
I got into skiing via my family, My parents loved skiing and wanted to teach us kids so we could go together. I fell in love with everything to do with skiing so we went every year as a family.
How did you end up skiing with Jen?
Jen was working with another skier that came to a natural ending. I had just taken a break to do some school work and wanted to come back. So with Jen needing an athlete to guide and I needed a guide our performance directed said let's try it to see if it works, and so we went to an indoor ski centre in Germany and hit it off like a house on fire and never looked back.
What do you enjoy the most about competing?
I love everything to do with competing in skiing, the feeling of exhilaration, the speed, the freedom of skiing, the pushing the limits and of course, trying to get the fastest time possible.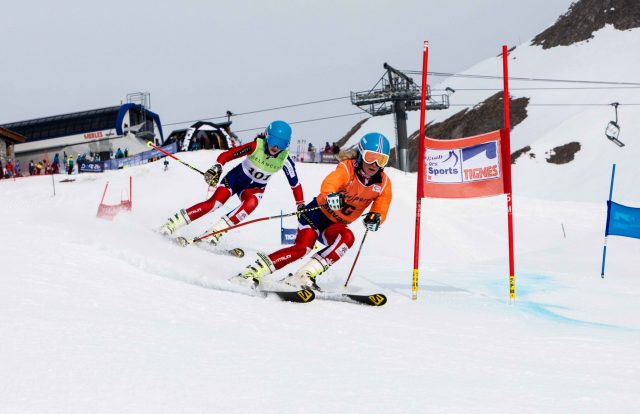 (Image credit: Vanessa Fry Photography)
What don't you like about it, if anything?
Competing at a high level of sport is not without its sacrifices. Being away from home for long periods of time, missing family events and missing friends back home.
And what do you do to relax?
When I relax I listen to audio books and watch a bit of TV
How about funding, do you qualify for any and is it enough?
As our performance has increase over the years our funding has gotten better. We get most of our funding from UK Sport who rely on the national lottery players to help support the team. We also have a number of private sponsors which we couldn't do what we do without them.
Favourite resort?
Grand Massif area in France
What are your main goals for 19-20?
To keep or better the level of technical skiing and to get stronger.
And any other longer term goals?
Our aim for this cycle is to increase in skiing ability ready for the World Championships in 2021 and the Paralympic Games in Beijing 2022.