And Now For Somewhere Completely Different
Why do we all keep returning to the same resorts in the Alps when there are so many other completely different ski resorts out there.
Many are easier to get to, more affordable and more interesting than some of the big name destinations and have plenty of terrain to keep you entertaining on a short breaks.
Here are a selection you might like to consider:
Isola 2000, France – Skiing near the Côte d'Azur
Located just over 90 kilometres from Nice, Isola 2000 is the closest French high-altitude resort to the Mediterranean and just a 1 hour 45 minute transfer from the airport there. The ski area boasts around 120 kilometres of piste with something for all standards and as great snowfall reputation, despite its southerly latitude, as it's the first place the snow storm clouds dump on when they move in from the sea, loaded with moisture.
Trysil, Norway – The Biggest Ski Area in Norway You've Never Heard Of 
Trysil may not be a ski resort name you're familiar with but it's one of the biggest in Scandinavia with  around 75km of interconnected slopes and a great choice of terrain to suit all ability levels. Owned by the same company that runs half-a-dozen of the biggest and best ski areas in Scandinavia, Trysil is Norway's biggest ski area and has something of a North American atmosphere on its usually quiet  slopes with wide, beautifully groomed ski runs particularly well suited to beginners and intermediates and some fabulous off-piste descents through the trees. There are a number of slopeside resort bases and the town of Trysil itself which has a great selection of shops, cafes and restaurants. All in all Trysil is a great choice if you want to get away from it all and ski somewhere very different to the Alps.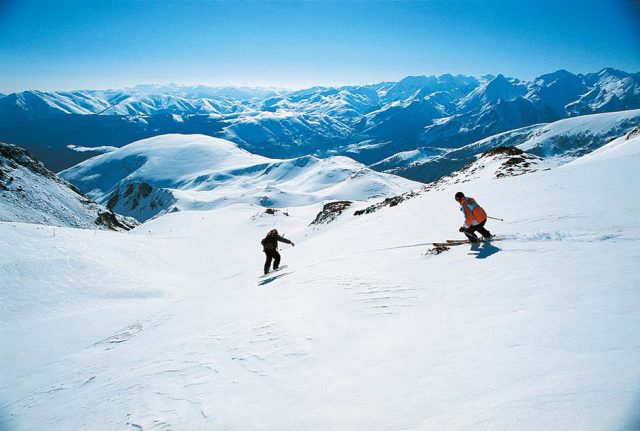 St Lary, France – A Mediterranean Vibe on Southern French Slopes
If you like your French skiing but want something very different to the Alps, it's hard to do better than Saint-Lary.  Although it is located high up in the French Pyrenees there's a very different feel here to those more northerly neighbours, instead there's a distinctively Mediterranean-vibe to this friendly, relaxing, authentic village that has more boulangeries, patisseries and fromageries than you dare dream.  Indeed food is a big factor here, with the proximity to the Med meaning seafood is a strength, but there's also a special breed of local black pig the resident's are very proud of too (there's a special celebration of the 'cochon noir' each winter in fact).  Better remember we're here to ski or snowboard though and with one of the biggest ski areas in the region with 100km of slopes for all ability levels you certainly won't get bored.
Sierra Nevada, Spain – Europe's most southerly resort with views to the Med
When people think of skiing in Spain they tend to think of the Pyrenees but the country's highest resort, Sierra Nevada, with skiing up to 3300m, stands alone in the south of the country above the ancient city of Granada – its airport is only 45 minutes away, Malaga two hours. It's so close to the Med that on a clear day you can sometimes see right across it to the Rif Mountains of Morocco. Sierra Nevada is full of surprises – it's great snow record despite its southerly latitude, often allowing it to stay open to May; it's extensive slopes stretching to more than 100km and 1200m of vertical, it's fun and lively atmosphere and low prices (Granada is a university city). There's even a long established British ski school in the resort.
La Clusaz, France – French Ambience & Big Mountain Skiing Close to Geneva
It can be remarkably difficult to find a French ski resort that's full of everything we love about France – big ski areas, great food and easy to reach from Geneva but that ISN'T a soulless purpose-built resort and in contrast has plenty of ambience PLUS (and this is the especially tricky bit) has a good snowfall record. A few ski resorts do fit the bill though and none more so than La Clusaz, a traditional village that has a ski heritage stretching back over a century now; a vibrant village choc full of authentic cafes, restaurants, bars and shops; a huge varied ski area and a great snow record – all just an hour from Geneva airport.  On the slopes La Clusaz has it all with four inter-linked ski areas offering something for everyone, including some great off piste opportunities for the most advanced. It shares an area lift pass with neighbouring Le Grand Bornand and there's over 200km of slopes divided in to more than 80 runs and served by over 50 lifts – world class dimensions by any measure.  Add in to the offer the six metre average annual snowfall and it's easy to see why la Clusaz keeps attracting back repeat visitors who fall in love with the place then never want to ski anywhere else.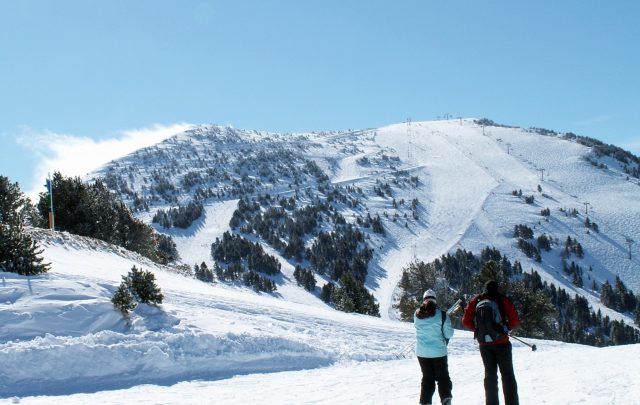 Ax-les-Thermes, France – A hidden gem in the French Pyrenees
When we think of skiing in the Pyrenees our thoughts are often first of formerly 'cheap and cheerful' Andorra, but that can be a mistake as resorts on the French side of this southwestern European mountain range often have much more character, more impressive scenery and lower prices than the famed principality.  They can also be easier to get to, and Ax-les-Thermes is only 90 minutes from Toulouse, an airport well served by multiple carriers from the UK. That's about half the time it takes to get to Andorra. It's a mid-sized ski area with 80km of piste divided in to 35 runs and bathing in the hot springs of "Le Bains du Couloubret" after skiing is something very special.
Brides-Les-Bains, France – Affordable Access to the 3 Valleys and Spa Culture Too
Arguably one of the most under-rated ski areas in the Alps, Brides-les-Bains is a long-established spa town below Meribel in the 3 Valleys and connected to the world's biggest ski area by a fast gondolas lift, installed when the region was part of the 1992 Winter Olympics. The fact that 'Brides' (as its known for short) is so under-rated pays dividends for skiers with lower prices than at the world famous resorts like Meribel, Courchevel and Val Thorens above. What's more, not only does the world's biggest ski area lie above, but the world's third biggest, Paradiski, which links La Plagne and les Arcs with over 400km more runs, is only a 10 minute journey away.  Easy to reach too, all skiers here should take the opportunity to take to the waters, famous for centuries for their healing properties, and just great to have a soak in at the modern spa complex whether you need healing or not.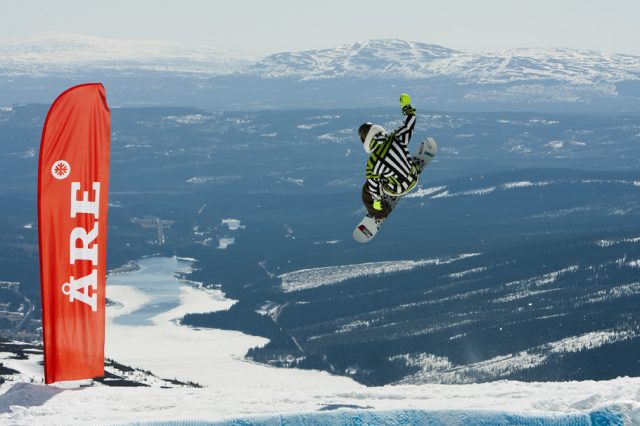 Åre, Sweden – The largest ski resort in Scandinavia
Åre has a big ski area and the resort is so big on the world stage it's a multi-time host of the Alpine Skiing World Championships, next up there is 2019, having staged it previously as recently as 2007, as well as back in 1954.  The good news for Brits is that there's an increasing number of direct flights to the local Ostersund airport, only an hour away for the resort, with easyJet recently introducing a new route from Bristol to complement their London service.  Åre has more than 40 lifts serving over 100km of terrain along mountains that slope down towards the shores of the huge frozen lake here. The resort itself has multiple bases including the delightful, original old village with typical Scandinavian architecture of the period.