Cheesy Ski Resorts
We choose our ski destinations according to a whole list of criteria – the ski area size, the vertical, the apres ski. The snow record and so on – but what about the local cheese?
Some of the world's best ski areas are, happily, also home to some of the world's greatest cheeses, so if you love your cheese as much as your snow, you are on to a winner.
Here are some of the crème de la cheese choices:
The Aravis region of the alps where la Clusaz is located is almost as famous for its farming as its skiing, with hundreds of small farms producing the famous Reblochon cheese, their herds of cattle grazing the ski slopes from late spring to early autumn every year once the skiers, and snow, is gone. Reblochon is a key ingredient of one of the favourite cheesy ski lunch meals, tartiflette, and the fromageries where it is produced are open to visitors during your stay in resort.
Crescenza di Capra – Courmayeur
Courmayeur has a strong reputation as a foodies' paradise so it's no surprise that the local Valle d'Aosta cheeses are widely available here, with a village dairy supplier and even an cheese market staged in Piazza Abbé Henry where you can taste and buy these products and discover more about them by talking to the producers. A mix of hard and soft cheeses are produced within a few kilometres of Courmayeur including the soft Crescenza di Capra produced by the Società Agricola Mont Blanc.
Beaufort is perhaps the best known cheese from the Savoie mountain peaks, produced at farms close to many famous ski areas including those of the Haute Tarentaise and served up[ across the French Alps in a fragrant fondue or topping a Savoyarde pizza.  There are, in fact, several varieties with main division being between "summer Beaufort" (made using summer milk) and "Alpine chalet Beaufort" (made in Alpine chalets up to 1,500m in altitude using the milk from the same herd). Both use the milk from tarine cows who have grazed on the high summer pastures, and then churned their milk into giant 40kg wheels that are matured for over five months as part of an ancient tradition.
Queso de Cabra de Andalucia  – Sierra Nevada
Sierra Nevada is famous for its generous tapas, served up free when you buy a drink in a bar. Looking for the most crowded bar and you'll tend to find the most generous tapas are being served, so you can get through the evening without dinner if you buy enough drinks (not always a good idea). The region is famed for its cheese, much of its goats cheese, sometimes blended to includes ewe's milk. The cheeses are mostly produced from  goat herds in the mountainous areas of the region and is usually available as queso fresco (fresh), semi-curado (cured for around 4-8 weeks), or curado (cured for around 8-12 weeks). It's often served as tapas accompanied by a glass of manzanilla or fino sherry.
Swiss cheese is of course world famous and the Villars region has a very special connection to this king of Swiss cheeses.  Local farmers have always grazed their cattle on mountain pastures between June and August, for centuries before downhill skiing was even thought of. The flora and climate of these alpine meadows help obtain superior quality milk and the region has become famous for "l'Etivaz", a protected appelation which is very special because traditional methods are used to make this famous cheese – wood fires, no machines and utensils dating back to the Middle Ages. So essentially the Gruyère here tastes as it did for centuries before modern mass productions techniques were introduced in much of the rest of Switzerland.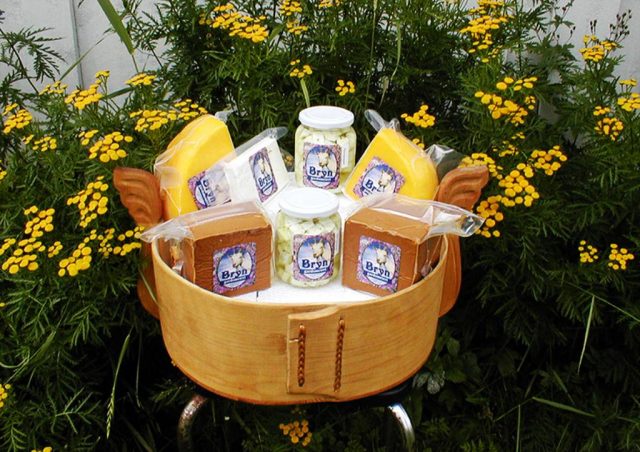 Bryn Cheese  – Trysil
Although we may tend to think more of cheesy dishes in the Alps, there is in fact usually a local cheese produced close to almost every major ski resort. At Norway's Trysil it's a goat's cheese made nearby at the old Bryn Mountain Farm.
Very different to alpine cheeses the producers describe it as tasting "more like super sweet fudge than actual cheese". The unique taste comes from caramelising the milk sugars, and you can even make it into Norwegian version of fondue!  You can buy Bryn cheese direct from the farm or at local food shops in Trysil.
(image top credit Red Bull)