Reberty – The Newest (and Arguably Best Value) Resort in the 3 Valleys
Every skier knows the 3 Valleys, the world's largest ski region with 600km of slopes and home to some of the world's best-known resorts like Meribel, Courchevel and Val Thorens?
But Reberty is probably not a name you know so well – hardly surprising as it only opened in 2000. But this relatively new resort in the 3 Valleys is proving a big hit and growing quickly.
Located about a kilometre further up the road towards Val Thorens from the resort of Les Menuires, Reberty and the adjacent community of Bruyeres, have a lot going for them compared to the better-known resorts on the 3 Valleys circuit.
A key attraction for Reberty is that it's high (1950 metres) and almost all properties offer doorstep skiing – so the top priorities for most skiers of season-long snow cover and instant, no-hassle, slope access are delivered.
The accommodation here has also gained a reputation for offering great value compared to many of the bigger resorts in the 3 Valleys.
The resorts planners have also learned from earlier design mistakes of the twentieth century and gone for traditional wood-clad, chalet-style architecture, so the villages are much more pleasing to the eye than either Les Menuires below or Val Thorens above.
The downside? Well, these are relatively new, relatively small resort developments which have not yet developed much in the way of shopping or nightlife. There are a few bars and restaurants, and good connections with Les Menuires, but these resorts are really for skiers only.
The resort is popular with Brits and has a very family-friendly feel.
The Skiing
Reberty provides great access to the 3 Valleys and is in fact in the largest of the three, Belleville, which has 300km of runs – half the total of the whole area. The middle valley of Meribel is only one lift away and from there it's only s little way further over to Courchevel.
You're also in a prime position to head up to the highest runs in the 3 Valleys above neighbouring Val Thorens and even continue over to the unofficially 'fourth valley' over the back of the mountain down above Orelle.
The whole area is an intermediate skiers paradise with hundreds of miles of blue and red grade terrain. There are some great off-piste routes too, which intermediate level skiers can tackle with a guide, several of them ending down at the base of the valley in St Martin de Belleville where you can then enjoy a meal in an authentic restaurant before heading back up the mountain.
Freestyles will find a full terrain park and there are also five fun zones.
For beginners and families with young children, there are gentle slopes around the resort and a snow garden for younger kids, but the dedicated beginner area is just below the resort in Les Menuires.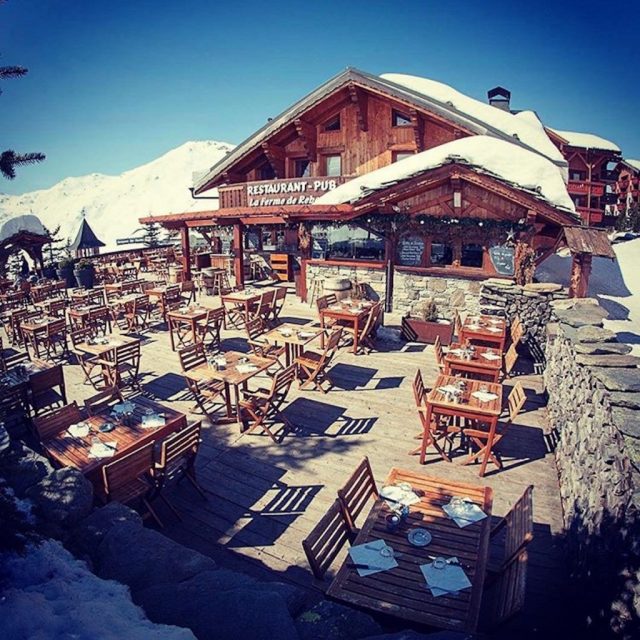 Eating and Apres
Reberty has very limited apres-ski facilities and if you're looking to go large late into the evening you're probably going to have to head down to Les Menuires or possibly up to Val Thorens.
There are some great establishment though if you don't need complete hedonism.  La Ferme de Reberty, which like most things in Reberty is slopeside, is one of the most highly rated restaurants in the entire Belleville Valley but also boasts a huge sundeck so is a key stop-off point for drinks at the end of the ski day too.  It also stays open to 1.30 in the morning so if you do want "a night in the pub" it ticks the boxes. But La Ferme gets most of its five-star reviews on TripAdvisor from diners impressed by the big, top quality meals, locally sourced ingredients and friendly, efficient staff.
Down in Bruyeres, La Chouette is one of the more popular venues. Slopeside again it's usually busy but also has friendly, efficient staff.  It's a good drinks stop as the lifts close and has a wide-ranging menu, with crepes a speciality.
The Rest
Facilities in Reberty are limited. There is a small supermarket and a few more restaurant/bars, and Les Bruyères is home to an Aquafun & Wellness Centre with watery pleasures spread over 3,500 m2.
However, the much greater selection of shops, bars, restaurants and other facilities in Les Menuires are easy to reach by a free shuttle bus service to Reberty's larger neighbour, which runs several times an hour.
Facilities here include a large leisure centre with indoor swimming pool, saunas, solarium and  Jacuzzis. There's also a downhill mountain coaster as well as cinemas and an ice rink.
More unusual options from Les Menuires include riding an electric snowmobile (one of only three resorts in France to offer that), tackling a snow maze and, whilst flying your own drone is banned, you can book with a professional drone operator to learn drone flying in the mountains or have yourself and your family filmed by drone.