Awesome Avoriaz – The Only Car-Free French Resort and it Keeps Getting Better
When it comes to the Alps, especially the French Alps, Avoriaz is very different.
Conceived a little over 50 years ago when most ski resorts were being built with concrete rectangles, it's flowing, angular, natural wood-clad buildings looked space age then, and they still do now.
Cars were banned from the start and still are today, parked on the outskirts of the resort. Instead, the 'streets' between the buildings are ski slopes and walkways, it's the only truly pedestrianised resort in France.
Located high above Morzine in the valet below, the planners were smart enough to build at a snowsure altitude long before we began worrying about climate change; and also at the heart of one of the world's biggest and most varied ski domains, the Portes du Soleil which links a dozen ski villages on each side of the French-Swiss border with around 600km of mostly lift-linked terrain.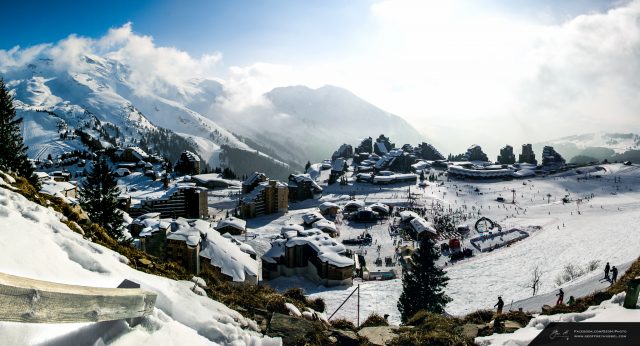 If there was a criticism of Avoriaz back in the early decades of its existence last century, it was a similar one to Val Thorens, that it was a little stark with not much to do but ski and rather 'functional' rather than comfortable accommodation options.
But that has changed completely over the past 20 years and particularly the past decade. Avoriaz is home to a myriad of off-slope attractions, crowned by Aquariaz, a tropical swimming dome and spa which feels both surreal and wonderful to use up high in the mountains surrounded by snow.  There's also a world-class apres-ski scene with an ever-growing list of great bars and restaurants, including one of the top hedonistic havens of the French mountains, La Folie Douce.
As for accommodation options, they've improved dramatically too with lots of authentic Savoyard chalets to stay in with plenty of luxurious touches, whilst a growing number of very comfortable hotels have opened in recent years too.
The Slopes
Avoriaz has an ideal location in the huge Portes du Soleil and you can decide each morning which way to head, perhaps downloading the region's app to help with route planning According to your ability level.
Beginners have nursery slopes in and around the village but experienced skiers can head off on blues and red runs perhaps down towards Morzine and overt to the area it shares with Les Gets or perhaps heading up to the border and crossing over to the Swiss side. One popular route is via Chavanette then a glorious long descent to the Swiss resort of Champéry, with numerous opportunities to try delicious Swiss dishes in the ski chalets you pass by along the way (the region is home to more than 30 mountain huts) before coming back to Les Crosets and then Avoriaz.
L'Abricotine, the longest piste within the Portes du Soleil area, is a great 8km (five miles long) slope passing down through the forest.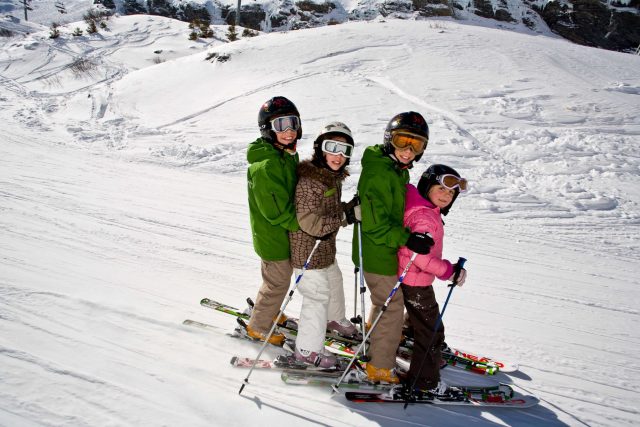 Expert skiers will find plenty of challenges, most notably the famous 'Swiss well' (or simply 'The wall') run down from the border into Switzerland.  It's pretty steep but the challenge mostly develops as moguls the size of VW Beetles grow on the slope.
Freeriders can enjoy a myriad of opportunities too with guides ready to reveal the local hidden powder stashes.  The Canyon du Pschott is one popular piste that is kept avalanche-safe but ungroomed for a unique freeriding experience The descent of the Vallée de la Manche, which takes around 30 minutes through unspoilt natural terrain, is another highlight.
Avoriaz has always been a bit avant-garde on the slopes and was a Mecca for monoskiers back in the day and the location for the pioneering ski movie Apocalypse Snow back in 1983.
Those who love freestyle are also very well catered for with the Burton-sponsored 'Stash' all-natural terrain park among the options. There's also the Lil'Stash, also located within the forest and using wooden climbing frames under the snow, snow sculptures and areas for freeride skiing. They're fantastic fun for families and it's worth noting that this play area was voted the best in the world by CNN.
Besides this, there's a six-metre-high half-pipe and the La Chapelle snow park for improving at your own pace thanks to a dedicated ski-lift, which enables a quick turnaround.
Apres Ski and Dining Out
The apres-ski scene in Avoriaz has been improving season after season for years now and the resort made it in to the big league of French party resorts in winter 2018-19 when it was chosen as one of the first locations for La Folie Douce, the legendary slope-side cabaret bar that began in Val d'Isere but has now opened unique incarnations in half-a-dozen top resorts, including Avoriaz. Here every afternoon there is an après-ski session from 2 pm to 6.30pm – an original show with DJ's, singers and performers which always makes the chalet rock!
Although La Folie Douce is definitely about having great fun, watching the amazing cabaret acts and dancing on the tables in your ski boots, the less well-publicised part of its success is great food and there are two new restaurants within the complex, La Petite Cuisine which serves up generous and indulgent self-service food through a long lunchtime and La Fruitière providing table service lunchtime and evening.
But even before La Folie Douce opened Avoriaz was fast building a reputation for its great bar scene and numerous foodie options and the choice and quality just keeps getting better.
Recommended restaurants include L'Epicerie, a stylish brasserie with stunning views for enjoying the sunset over the Morzine valley, or perhaps Chez Cannelle, a lively, family-run bakery-delicatessen serving both sweet and savoury dishes, including speciality home-made pyramid stacks which are as generous as they are delicious.
La Cachette, the cosiest bar-restaurant in the resort, located in Avoriaz's historic quarter, inside the Galerie des Hauts Forts, is another highlight. Specialities here include the dessert board or fondue served in a round bread loaf.
It's also important to note that the resort has a full calendar of events running through the season, building to its climax in the latter half of march with the huge Rock The Pistes festival which sees ski-to free gigs across the Portes du Soleil in the daytime then plenty more fun in the bars and clubs in resort at night. That's followed by Snowboxx, one of the biggest music festivals in the Alps, the following week.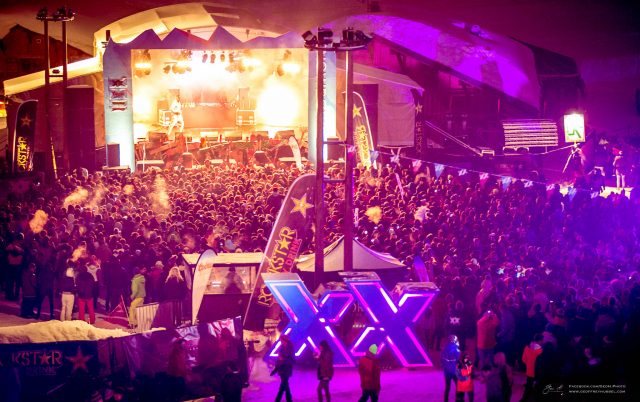 Activities
As with the apres-ski scene, the range of non-ski activities offered in Avoriaz keeps getting longer and better.  There's everything from the fun and easy indoor bowling alley, or electric snowmobiles especially for kids to the rather more challenging option to take a trip to go diving under the ice in nearby Lake Montriond!
There are also fun outdoor alternatives like laser tag in the forest with teams of 6 to 10 players battling it out through a wooded obstacle course in the snow at Sensas Park.
Top of the list for most though, particularly families, is Aquariaz – a kind of CenterParcs tropical swimming complex but up a mountain and a nice add on to your ski holiday (actually it's probably no coincidence that the company which runs Avoriaz and the one that runs CenterParcs have the same parent company!). This aquatic paradise has jacuzzi baths, a rock climbing wall, water slide, rivers and waterfalls and is also home to "The Spot" an après-ski location for the whole family!
You could also partake of the Village Igloo Experience, a unique village of snow houses you reach after a star-lit snowshoe hike. There you can enjoy an aperitif, an Haute-Savoie region dinner and a night spent in an igloo.
It could be an unusual way to complete your stay in an unforgettable way in this great resort.