La Clusaz – Authentic French Skiing at its Best
France has the biggest and many people believe best ski areas in the entire world but in terms of where you choose to stay it all too often has to be a choice between a high-altitude, snowsure but often rather soulless resort, or an authentic village with bags of character but perhaps a rather low elevation down below 1000 metres and no ski-in, ski-out access most of the season or a small village with not much going on off the slopes.
There are a few exceptions to this rule that do offer the best of both worlds however – a large, vibrant ski resort that's also a year-round community with bags of character and a great atmosphere with enticing shops, cafes, bars and restaurants; at an altitude that gives you a good chance of having village level snow all winter and with access to a good-sized ski area with plenty to keep you busy for a week, or indeed all season long.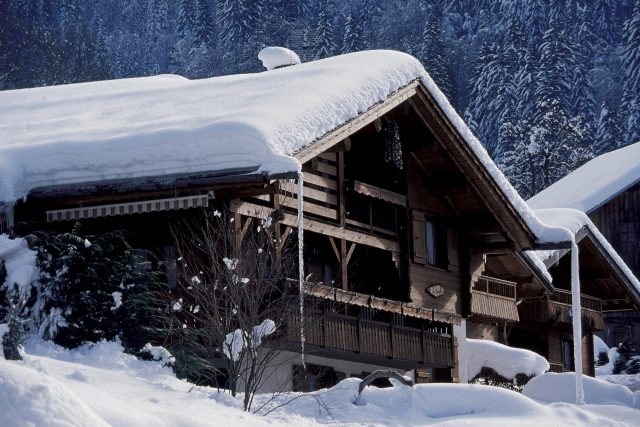 Step forward La Clusaz!
La Clusaz is one of a very small group of French resorts which are not purpose built but are none-the-less located next to world class ski areas. Indeed this traditional Savoyard village is regarded by some as one of the most picturesque in France and has now been attracting skiers to its extensive slopes for more than a century.
The area has a great snowfall record and with runs up to 2,600m high there's a world class 1500m of vertical to its 125km of piste – one of the biggest areas for a single resort in the Alps inter-linking five separate mountain areas (an area pass covering the slopes of nearby Le Grand Bornand and the ski bus service to it extends this to more than 200km).
The icing on the cake for skiers looking for a great short-break destination or somewhere that's quick an easy to get to from the UK is that it's located just 50 minutes from Geneva.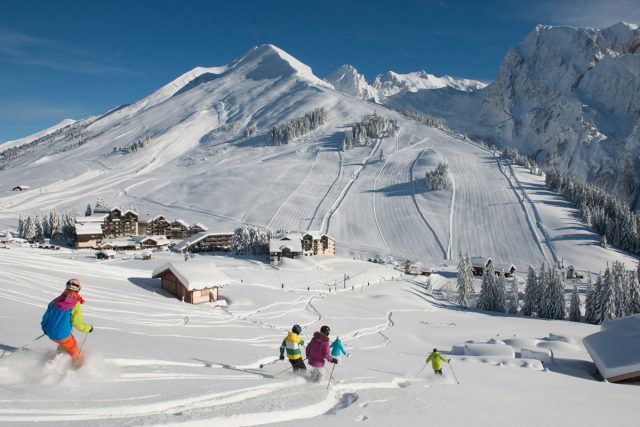 The Ski Area
The ski area extends across five inter-linked mountains – Beauregard, La Croix Fry-Manigod-Merdassier, L'Etale, L'Aiguille and Balme.  These are all lift linked to one another by almost 50 lifts.  This huge area covers all kinds of slopes from large wooded trails for relaxed descents, to high summits and steeps.  Altogether there are 84 slopes (7 black, 29 red, 30 blues, 18 greens).
Beauregard is the mountain closest to the village and is regarded as a place for easy cruisers, although with all the slopes below the treeline it is possible to enjoy some exciting tree skiing if you have the technical expertise required.
Over the back of Beauregard there are the Croix-Fry Manigod Merdassier slopes, an area of largely gentle slopes, ideal for children and beginners.  Right next door however are the slopes of l'Etale, largely above the treeline and much steeper.
Rising up across the village is the Aiguille Mountain, known for its sunny slopes with big verticals, such as the Grand Crêt which drops 1,200 metres.  You can also take the exciting la Combe du Fernuy run which starts black but ends red and leads you over to the fifth and highest mountain, Balme.  This is the most snow sure of the resort's ski areas with long fast cruises, all above the tree line.

There are plenty of attractions for advanced to expert skiers on the slopes of La Clusaz.  A Summit Circle route is possible encompassing only black and red trails.  This includes the 4km long Vraille slope on Balme which drops 1100 metres on north facing terrain and has a reputation for powder snow.  Another tough slope is the Crêt du Loup mogul slope.  Located on the Aiguille mountain it is one of the best natural mogul slopes in the world.
Off piste touring with a Mountain guide is another option as is heliskiing in Switzerland and Italy.
At the other extreme there's loads for families including the popular LCZ Family Run where you can  learn the basics of freestyle such as how to place yourself before a jump and how to land. Both skiers and snowboarders can have fun as they safely try out the discipline on the run.
A ski bus network links the base of the mountains and makes the link over to the smaller ski area of le Grand Bornand at least once every 30 minutes.
La Clusaz has a very long pedigree as a ski resort and has hosted numerous international competitions and been home to plenty of French ski champions down through the years.  Not just standard downhill skiers either, all discipliners are embraced in this true wintersports Mecca.  For example both the Telemark World Championships and the Freestyle World Championships have been staged here.  Cross-country skiing is another strength with 70km of trails spread across the two plateaux of Confins and Beauregard.
An entertainments office ensures that there is some event or another on daily, with weekly torchlit descents in which guests can participate and there are also weekly get togethers staged by the tourist office where guests can meet a variety of village residents on an informal basis.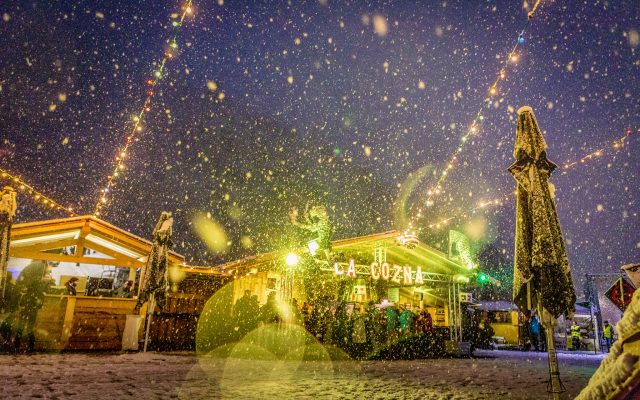 The Village
La Clusaz is about much more than downhill skiing, with the charming resort of chalet-style buildings choc-full of cosy shops, enticing cafes, bars and restaurants and plenty of other things to do besides.  Facilities available include an ice rink, sledging, snow-shoe walking, dog sledding and a new bowling alley.
Spa culture is also alive and well in La Clusaz with a choice of the cosy Deep Nature Spa (one of the biggest in the France alps with 850 square metres of pampering space), the cosy Spa Nuxe or the experiential Cristal Spa.  Services on offer include a choice of alpine plant massages, double massages with a friend or your children, or a hydro pathway with massaging jets – a great way to relax after a day on the slopes.
The resort's Aqua Park perched on the mountainside which includes indoor and 25m outdoor pools from which you can watch the skiers on the slopes opposite. There's also a waterfall, Jacuzzi, sauna, steam bath and a fitness suite.
There's also a very full events programme organised by the resort's tourist office with a wide range of events for friends and family, from the all-important après and nightlife to a music festival, art exhibitions and entertainment organised throughout the winter in the various bars, pubs and restaurants in the resort.
Annual events include lots of special Christmas-themed events in December and an increasingly impressive circus festival in early spring.  There's also the 'Full Moon festival' in March and April when you can ski or board in the moonlight and enjoy a whole lot of added entertainments.
La Clusaz also boasts a vibrant foodie scene where excellent local produce meet modern culinary techniques which mean you can enjoy all the favourites from fondue to tartiflette that but also find some modern interpretations as the Alpine cuisine here is continuously evolving. In La Clusaz, restaurant chefs compete to offer the most delicious, gourmet dishes or to give you a taste of the fine traditional recipes so it's a win win for visitors!
One unusual eating experience new for 2018-19 is Sushi Fumi. Both of the owners are French chefs who have trained in the art of Japanese cuisine with the objective of creating a different type of menu and experimenting with flavours.
So you will find the classic sushi, makis and rolls, such as salmon, tuna or prawn, but you can also discover a fusion with traditional ingredients from the region such as Beaufort cheese, blueberry and walnut, or goat's cheese and honey, crispy vegetables or even home-made foie gras and gingerbread with figs. Yum.