Engelberg – Ski Big, Ski Close in Switzerland
When it comes to skiable vertical, there's quite an exclusive group of no more than a dozen resorts that can offer you 2,000 metres or more of non-stop descent.
In France there's Alpe d'Huez, Les 2 Alpes, Chamonix, Les Arcs, La Plagne and Val d'Isere, in Switzerland Davos, Verbier, Murren (on the rare occasions you can ski to the valley floor) and Engelberg.
How does Engelberg differ from the other Swiss destinations?  Well one key factor for many people is that it's much closer – just 90 minutes from Zurich and an airport well served by early morning and evening flights targeted at the business community, meaning you can fly to and from multiple airports including London City before or after a day on the slopes with a direct shuttle service making the link. 90 minutes is about half the transfer time to Verbier or Zermatt.
Located in Central Switzerland, Engelberg was first established as long ago as 1120AD and in more recent times has clocked up more than a century of skiing history.  It's a year-round community however with a great range of shops, cafes and restaurants as well as plenty of other activities to try off the slopes.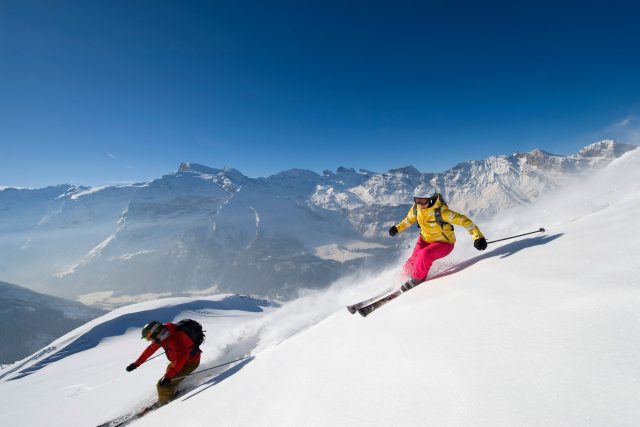 The Snow
Engelberg's snow record is legendary and often tops the table for the entire Alps for building the deepest snow base – sometimes five, six or even, in the snowiest winters, seven metres deep – on its upper runs.  On average the resort gets six metres of snowfall each year.
All the snow, and the Titlis glacier up top, make the resort one of Europe's most snowsure with a season that begins in early October and lasts well in to May most years.  So if you want an early or late season ski break, Engelberg is the perfect choice.
The abundant snow and big lift served vertical also makes Engelberg a major attraction to freeride skiers and boarders with a vast amount of off-piste skiing on offer and plenty of local guides available to lead you to the best and safest descents depending on the conditions and forecast at the time of your visit.
Engelberg also runs several 'Snow and Safety Days' through the season at which mountain guides teach freeriders how to ski safely, including training with shovels and transceivers. There are tours over powder snow accompanied by mountain guides, an orienteering race in the ski area, and much more – and best of all, the course is free of charge for resort guests
The Skiing
Engelberg has 82km of ski slopes divided in to two sectors, with the majority on Titlis, but about 25km on the quieter slopes of Brunni.
There's terrain for every type of skier and boarder, with runs up to an incredible 12km in length down the full 2000 metre vertical.
The upper parts of the mountain are high Alpine terrain above the treeline with the only glacier skiing in Central Switzerland but there are some beautiful tree runs lower down the mountain.
The smaller Brunni ski area recently celebrated 75 years in operation. It has offered night skiing for many years and this continues on selected Friday and Saturday nights in January and February. Brunni now operates a solar power plant on Ristis (1,600 m) with panels spread over 150m2, which produces as much electricity per year as the artificial snowmaking system on Brunni consumes.
It's worth mentioning that getting to the top of that big vertical at Titlis can be fast too.  A few winters ago following the replacement of their iconic Rotair revolving cable car which serves the higher slopes, the resort built a fast new eight 8-seater gondola which takes skiers directly from the valley station to the mid-mountain point at Stand, a vertical ascent of nearly 1,400 metres, in just 16 minutes – a considerable time saving compared to having to take a three-stage lift ascent previously.
From Strand the new Rotair cable car climbs a further 600 vertical metres in just five minutes, slowly revolving 360 degrees on the ascent, to access the full near 2,000 vertical metre descent back down to Engelberg.  There are few resorts in the world that can get you up such a big vertical so quickly.
If you really want to make the most of it there are even accommodation options up on the slopes above the resort.
The Resort
Engelberg was around long, long before winter sports and will in fact celebrate its 900th birthday in 2020.
The town's Benedictine Monastery has been a key part of the resort since the beginning and tours of the monastery are a good way to learn more about its history. The brothers also produce a very popular locally brewed beer from a time long before the advent of the micro-brewery.
If you're in town on a Saturday night you can take the gondola lift up to Trübsee and have fun tubing, snowshoeing or winter hiking by night then enjoy pizza from a wood-fired oven and a good glass of wine in Italian restaurant Lago Torbido after your exertions. All you need is your ski pass.
There are also plenty of other non-ski activities to try here including snowshoeing, a visit to the Igloo village, some great long toboggan runs and even electric snowmobiles to rent.
Up at the top of Titlis – a year round tourist attraction for non-skiers – attractions include on of the highest chocolate shops in the world and one of Europe's highest suspension bridges between two peaks.  It doesn't really go anywhere and is just there for those with a strong head for heights to test their nerves.