Sierra Nevada, Skiing in the Spanish Sunshine
When we think about ski destinations in Europe we might think about resorts in the Alps, the Dolomites, Scandinavia perhaps or even the Pyrenees, but does the Spanish Mediterranean coast ever spring to mind?
Probably not. But that's actually a major omission in our thinking because Spain's Mediterranean coast is where the country's highest mountain lies, Sierra Nevada and on it sits Europe's most southerly mainland ski resort.
That's all very well but in that location it's not going to be very big is it and that far south the snow will be rubbish!  Right?
No, wrong.  Sierra Nevada is one of the biggest resorts in Spain and a good size, with more than 100km of runs, compared to many in the Alps. Sitting at 2100m it's one of the highest resorts in Europe, and the 1200 metres of vertical above it is the biggest in Spain. There are loads of great, long, fast cruising runs. The longest, El Aguila, is more than 6.2km long – nearly four miles.
Its snowfall record is also one of the best in Europe as moisture laden cloud have to rise fast as they hit the Spanish coast here, dumping their white gold on Sierra Nevada's peaks.  There's also one of the biggest snowmaking arsenals you can find anywhere here with more than 350 snow cannons covering almost all of the slopes.  As a result the snow depth regularly hits five or six metres by the start of spring and it has a long season from November to May.
Its international importance is such that it has hosted the World Alpine Skiing Championships, the second biggest competition in ski racing after the Winter Olympics, and it receives about a million visitors each winter.
There's more good news.  Sierra Nevada is located high above the ancient city of Granada, fought over by European and North American religious and political leaders for generations and home of the Alhambra Palace, a UNESCO world heritage site.  So a trip to Sierra Nevada can be combined with a visit to Granada just below.
Granada has its own airport, less than an hour from Sierra Nevada, with direct morning BA flights from London City, so you can actually be on the slopes of Sierra Nevada faster than you can most resorts in the Alps, making it perfect for a short ski break.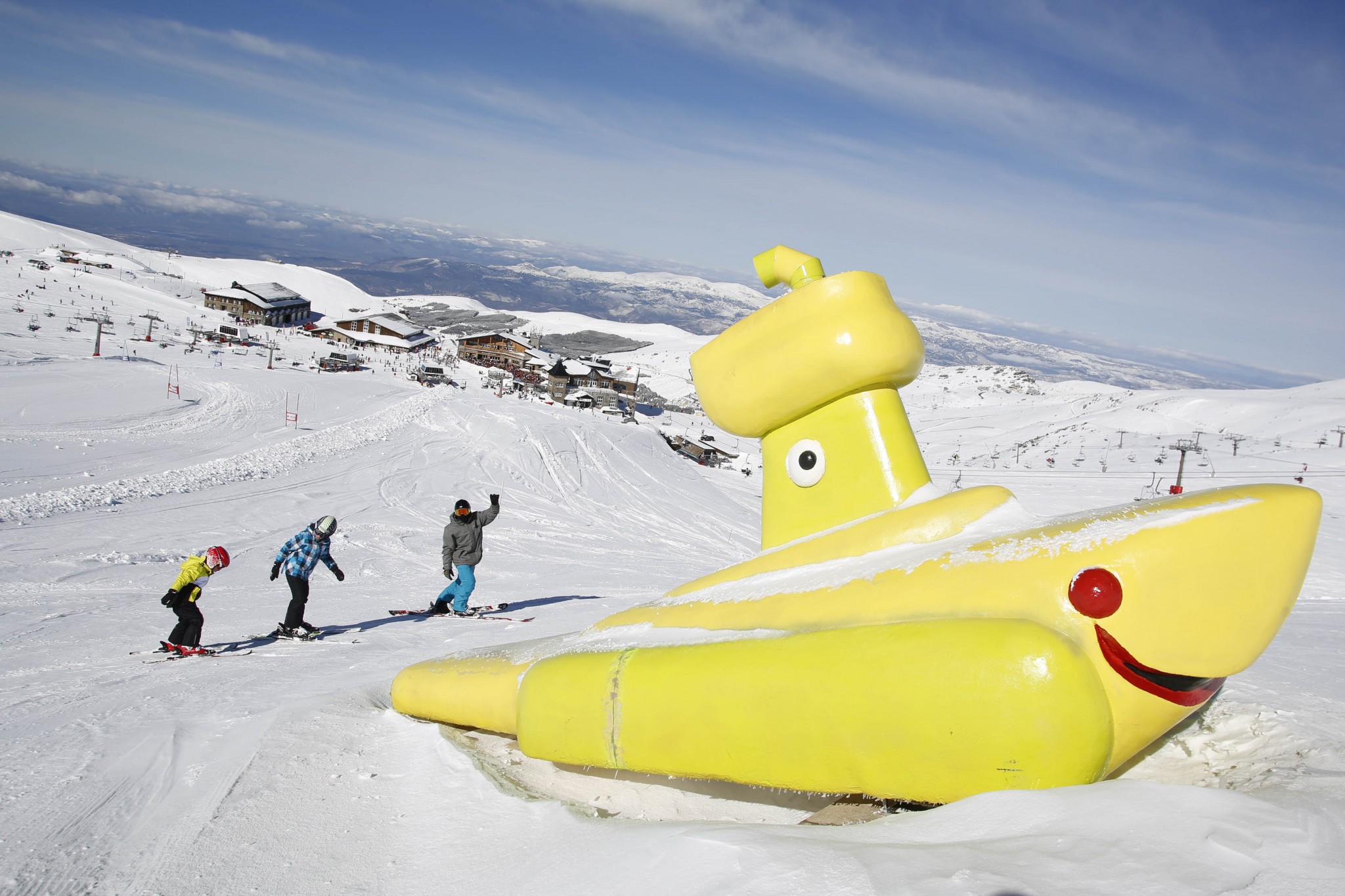 If you still need convincing there are still more plus points.
As well as being a fascinating, historic city, Granada is also a big university town, and the students are a big part of the clientele at Sierra Nevada giving the resort a fun, youthful atmosphere.  They also help to drive down prices, as the resort's many bars and restaurants compete for their business, which of course anyone else can take advantage of to.
One uniquely popular idea in the region is that when you buy a drink, you're given free tapas, as a small item of food. The bars that are the most generous with their free tapas tend to be the most popular, so if you want to eat free whilst you apres ski, look out for the busiest bars and battle your way to the front.
Don't be fooled in to thinking Sierra Nevada is exclusively a budget resort however. There's some very stylish, upmarket accommodation on offer here including several superb 4 and 5 star slopeside hotels offering the highest service standards and fantastic facilities if you want to treat yourself.  And why not? You're worth it!  There's even a Champagne bar to enjoy at the base of the slopes.  That's real Veuve Cliquot French Champagne too, not cava!
Finally that Mediterranean sunshine.  Despite its great snowfall record Sierra Nevada also manages to be mostly sunny, clocking up 320 days, on average of sunshine and its altitude and location provides amazing views out across the coast of southern Spain and on a clear day right across the Mediterranean to the mountains of Algeria in North Africa.
The Skiing
Sierra Nevada has more than 120 runs to choose from, with the ski day beginning with a choice of fast gondolas and chairlifts from the base which gobble up any potential queues, lifting skiers to a mid-mountain plateau at Borregeguiles, from where a network of chairlifts serve the upper slopes and open up glorious long runs from top to bottom with a mix of green, blue, red and black runs.
That youthful exuberance from the university students on the slopes is satisfied by no less than  seven terrain parks ranging from a mini beginners' terrain park to the full scale Sulayr terrain park with permanent ski cross course.
The skiing day can be long too if you have enough energy, with First Tracks available from 7.30am and then night skiing on offer on the Rio and Maribel slopes from Thursday to Saturday evenings too.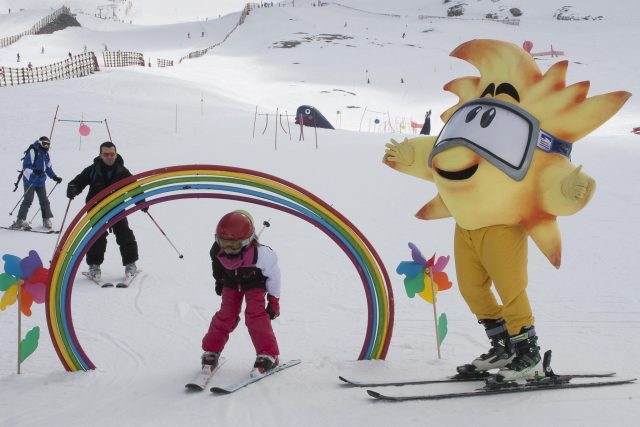 Children have some special slopes including the Pita des Bosque run where they can ski through a giant shark before joining onto the existing Pista el Bosque trail which features mountain animal figures.  There are special nursery slope areas with easy to use conveyor lifts for young beginners.
Sierra Nevada has its own long-established English speaking and British run ski school.
As this is Spain there are plenty of places to eat including several large restaurants at the base of the slopes in Borreguiles, where you can choose from fast food to plush table service.  Again prices are much lower than in the Alps.
The resort's oldest surviving bar, Crescendo is also located at the base of the slopes. It's a cool and cosy venue that sometimes has live DJs but began life in the 1970s with more of a jazz club feel.
You'll find pictures of figures like Sean Connery and James Hunt on the walls, visiting in their younger days a few decades before you.
So to sum up: Europe's most southerly resort, up at a snowsure attitude with more than 100km of runs and Spain's biggest lift-served vertical. One of the quickest resorts you can reach from the UK, above a historic city with a youthful vibe.  It's all very high value but full lux options are available. The sun shines almost every day but it's still got a great snow record too.  Sierra Nevada, what's not to love?