SKI SMART – Maximise your ski time with these short transfer resorts!
There are few things that feel better in this life than grabbing a sneaky ski fix – a few days in the mountains, escaping your regular routine. But for that really smug feeling, you need to plan carefully and choose the right resort to prevent the classic short break disaster – spending most of your allotted time actually getting to the ski area and on to the slopes, then having to turn around and come back again almost as soon as you've strapped your skis on.  For the perfect trip you do need to look at every detail – flight timings; fast, easy transfers; getting and returning rentals – the shop's proximity to where you're staying and its opening hours (if you're not taking your own gear) and of course how close your accommodation is to the slopes.  If it all looks quick and seamless, you're on. Here's a quick lowdown on some of the ski areas that are particularly quick and easy to reach once you land in the Alps.  From Geneva there are two giant ski areas within easy striking distance and several classic resorts too.
The Portes du Soleil | 1 hour transfer | 55km from Geneva
The magnificent Portes du Soleil, a huge ski area that straddles the French-Swiss border is one of the closest, and two long-standing British favourite resorts, Les Gets and Morzine, amongst the quickest and easiest bases to reach there.  Both are traditional, long-established ski centres with plenty of ambience and attractive Savoyard chalet-style architecture, so you'll immediately feel a world away from your day job.  Les Gets – which has a particularly strong reputation as a family-friendly destination, and also for its efforts on the environment – is only 55km from the airport, an hour away on a clear road.  Morzine is just a little further.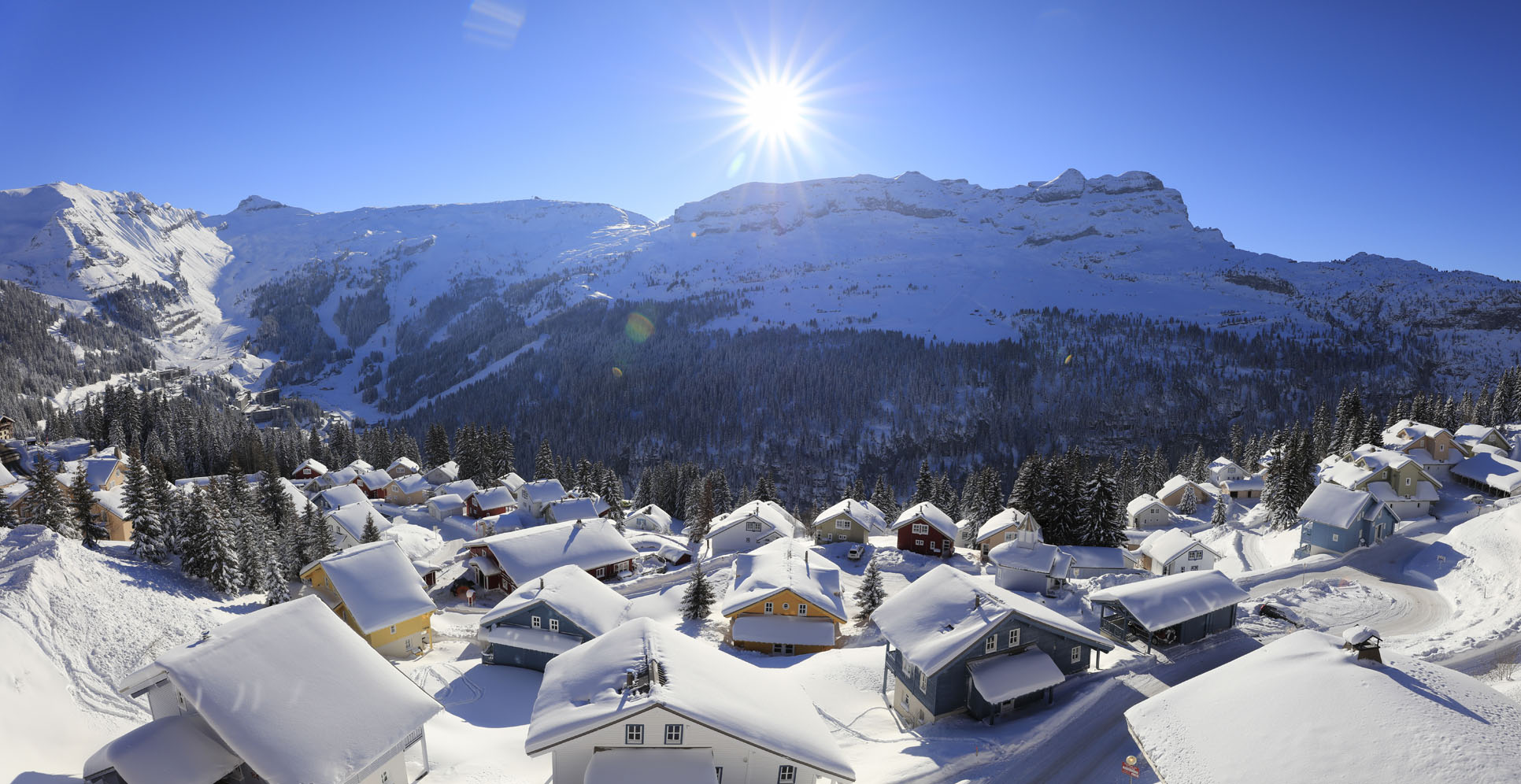 The Grand Massif | 90 minute transfer | 90km from Geneva
The second giant region that's close to Geneva is the Grand Massif, essentially a huge powder snow bowl with a reputation for its deep, reliable snow cover and some 280km or so of piste to enjoy. The resort of Flaine is superbly designed so that virtually every property is slopeside and wherever you stay you can be on the slopes in seconds, so it's as great choice for a fast snow fix.  It's 90km/90 minutes from Geneva.
Chamonix | 80 minute transfer | 88km from Geneva
One of the world's great resorts, Chamonix, is just a little further away at 88km but the road in is a particularly good and fast one, dualled virtually the whole way, so its 80 minutes from Geneva with a clear run.  Chamonix is big of course and its base fragmented so its important to be careful about where you stay to ensure that you have easy access to the lifts from wherever you're based in the resort.
La Clusaz | 1 hour transfer | 50km from Geneva
Finally from Geneva, La Clusaz is another resorts many Brits fall in love with, thanks to its rich heritage, picturesque architecture, oh and the excellent skiing of the Aravis Region.  It's an excellent choice if you're in to authentic French food, boutique shopping and great nightlife.  It's only 50km / 60 minutes from  the airport.
The French Pyrenees | 90 minute transfer | 125km from Toulouse
If you're looking for a different choice to the big name resorts in the Alps, and perhaps flying in via an airport less frequented by skiers how about booking a trip via Toulouse and popping down to the French Pyrenees and the resort of Ax les Thermes?  The ski area here is surprisingly extensive with 90km of runs for all standards with 1000 metres of vertical and a network of a dozen or so lifts including some good chairs and gondolas. It's 125km from Toulouse but the good road connection means this distance can be gobbled up in 90 minutes.
Neiderau | 1 hour transfer | 70km from Innsbruck
Austrian ski centres are rarely far from an airport – and as an added bonus Austrian airports are typically fairly small and quick and easy to get through – but some ski areas are closer than others. It's hard to ski closer to Innsbruck Airport than if you ski at, well, Innsbruck.  Enjoy a city break in this stunning city and choose which of the nine ski centres that are located around it to ski at each day – they're all included on one pass.  A little further out, if you prefer the 'Chocolate box Tyrolean village" base for your Austrian ski break, Niederau, in the Wildschonau Valley and now part of the larger Ski Jewel region linked to Alpbach with about 100 miles of runs is just 70km (an hour) from Innsbruck airport. Only slightly further away (104km/70 minutes mostly on a fast motorway) is the legendary ski resort of St Anton, home to the most buzzing apres ski scene in the Alps, the biggest ski area in Austria and some of the most sensational off piste terrain  on the planet.
Engelberg | 104 minute transfer | 100km from Zurich
Finally, Zurich is another good choice for fast transfers once you land at the airport, with typical Swiss efficiency.  Engelberg has built a strong reputation as an easy ski area to get to and from and as well as being only a well-organised short-hop (100km/104 minutes) from the airport, recently invested tens of millions of Francs in a swish new gondola that whisks skiers up most of the 2000 vertical metres of ski terrain above in a matter of minutes – so you not only get to the resort quickly but can be up at the top of their massive glacier-capped mountain minutes after you arrive too.
Words by Patrick Thorne.